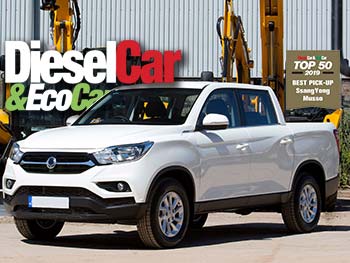 Musso wins Best Pick-up in 2019 DieselCar & EcoCar awards
What is the best Pick-up available in 2019? According to DieselCar & EcoCar Magazine: the new SsangYong Musso!
Its third UK award to date, the new Musso has already garnered:
Best Value Pick-up (4×4 Magazine)
and with this new accolade:
Best Pick-up 2019 (DieselCar & EcoCar)
the new Musso is storming ahead of the competition.
Reviewers and customer feedback has been unanimous: the new SsangYong Musso's elegant combination of build quality, space, refinement, comfort and value for money is extremely impressive.

Unlike many other pick-ups on the market, the new SsangYong Musso is a double-cab as standard with five spacious seats. Choose the base model and it will still carry 1-tonnes and tow up to 3.5-tonnes. Add the class-leading seven-year-warranty, some big tech and a powerful engine and you have a multi-award-winning model.
Charters SsangYong don't just wax lyrical about the SsangYong Musso. Our enthusiasm in this exciting brand is showing the "big brands" a thing or five about what makes a truly award-winning pick-up.
New Musso is tough enough to do the job, based upon the multi-award-winning Rexton, it is comfortable for five adults plus your payload, plus your tow-load!
New SsangYong Musso pick-up comes in three trim levels:
with a special edition named Rhino! Learn more about this award-winning pick-up by clicking the links below or book your test drive for this weekend in Reading. You won't be disappointed.
SsangYong Musso Pickup
Based upon the award winning four-wheel-drive Rexton, the New Musso is back and this time it's bringing a whole host of exciting new features. The New SsangYong Musso Pick-up brings added style, comfort and technology along with raw power and the toughness you expect from the brand. Like the SsangYong Rexton, the New Musso Pick-up comes with a 7-year (150,000 miles) warranty, so however hard you work it, you'll know it will be covered.
"A REAL MUSSO CAR In a market with big players, the SsangYong Musso will pickup a lot of admirers"

The Sun
Book a Test Drive
For the Ssangyong New Musso
Sales Location
Oxford Road
Reading
,
Berkshire
RG31 6TQ
Phone:

0118 402 4780
| | |
| --- | --- |
| Monday | 8:30 AM - 5:00 PM |
| Tuesday | 8:30 AM - 5:00 PM |
| Wednesday | 8:30 AM - 5:00 PM |
| Thursday | 8:30 AM - 5:00 PM |
| Friday | 8:30 AM - 5:00 PM |
| Saturday | 8:30 AM - 5:00 PM |
| Sunday | Closed |
Your official SsangYong dealership for new and used car sales, servicing and parts in Reading, Newbury, Basingstoke & the surrounding area