Personal Contract Purchase
For the most popular finance scheme in new and used cars, choose Personal Contract Purchase. Often abbreviated to PCP, this scheme is made to help drivers get on the road faster, easier, cheaper and gives a flexible solution at the end of their contract.
For those who want to keep payments low but want the flexibility at the end of their contract, you can drive away a new or used car or commercial on SsangYong Personal Contract Purchase.
SsangYong PCP scheme is a simple six-step process:
Customers choose their SsangYong of choice, select their options and protection level
Decide upon a deposit (or vehicle they want to part exchange towards the cost of the vehicle)
Decide their term and expected annual mileage
Get a quote from our team
Get accepted on a SsangYong hire purchase agreement and sign the documents
Collect their new vehicle.
At the end of your SsangYong PCP finance scheme, you can:
Hand the vehicle back in good condition (and within mileage limitations) with nothing more to pay
Upgrade your vehicle to a new (or bigger) model on a new Personal Contract Purchase agreement
Pay the outstanding amount and own your vehicle. This final figure can be re-financed so you needn't worry about paying a large lump sum.
The SsangYong Personal Contract Purchase scheme is made up by offsetting the future value of the car until the end of your contract. An example can be seen below (for ease of understanding, no interest charges have been added to the calculation).
Example:
You want to finance a car worth £10,000 over 3 years/36 months and are likely to drive 8,000 miles per year. You are putting down a £1000 deposit as you have no part exchange to include.
We establish that the value of the vehicle (at the end of your contract £5000).
To establish the cost of your Personal Contract Purchase payments, we would subtract £1000 (deposit) as well as the £5000 (future value) from the total price.
You would pay £4000 over three years, making your payments approximately £111 per month for 36 months.
At the end of your contract, provided the vehicle is in good condition and has not travelled more than 24,000 miles, you can hand back the vehicle, start a new PCP agreement on a newer vehicle or pay the £5000 remaining. This £5000 can even be financed.
Advantages of SsangYong Personal Contract Purchase are:
Flexibility: hand back, upgrade or replace your vehicle at the end of your contract
Payments are often lower than a Hire Purchase agreement (depending on mileage used)
Drive a new SsangYong every three years
Lower maintenance costs and with the Charters Service Plan included) you can reduce these to zero.
You can still own your vehicle at the end of your contract
Disadvantages of SsangYong Personal Contract Purchase:
Each Personal Contract Purchase payment is based upon the condition and mileage of your vehicle after the term. If your vehicle returns with higher mileage than expected, there is a small premium to pay (charged on a pence-per-mile basis which is agreed when you sign the documents).
Customers won't own their vehicle unless they opt to pay the balloon payment at the end of their term.
You are responsible for road taxation, servicing and maintenance costs (unless you include a Charters Service Plan to help budgeting)
You are not able to sell your vehicle privately during the contract.
Financing a SsangYong on Personal Contract Purchase is a more versatile option for our customers. If you opt for a 36-month contract (or lower), you'll never have to worry about MOT costs. Include the Charters Service Plan and you never have to worry about Servicing/Maintenance costs. Thanks to SsangYong's 5-year complete peace of mind warranty, you can be sure that throughout your PCP agreement, your car will be covered which is why most of our customers choose this scheme.
If you have question on our SsangYong Personal Contract Purchase finance scheme, then contact us today. We're here to help seven days a week.
Finance Application
For the Ssangyong Turismo
Sales Location
Oxford Road
Reading
,
Berkshire
RG31 6TQ
Phone:

0118 402 4780
| | |
| --- | --- |
| Monday | 8:30 AM - 5:00 PM |
| Tuesday | 8:30 AM - 5:00 PM |
| Wednesday | 8:30 AM - 5:00 PM |
| Thursday | 8:30 AM - 5:00 PM |
| Friday | 8:30 AM - 5:00 PM |
| Saturday | 8:30 AM - 5:00 PM |
| Sunday | Closed |
Your official SsangYong dealership for new and used car sales, servicing and parts in Reading, Newbury, Basingstoke & the surrounding area
More From This Category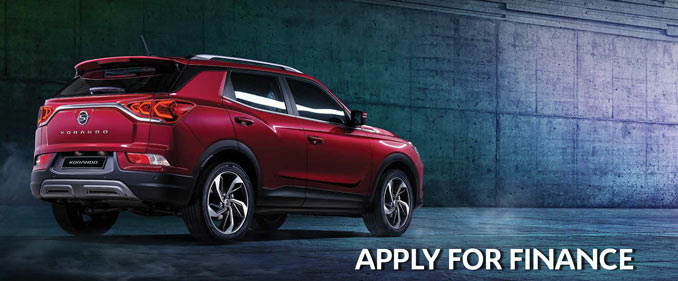 | | | | | | | | | | | |
| --- | --- | --- | --- | --- | --- | --- | --- | --- | --- | --- |
| Hire Purchase (HP) | £209.21 | £1,030.00 | £0.00 | £10,304.00 | £9,274.00 | £0.00 | £13,592.00 | 13.4% (fixed) | 60 Months | 13.4% |
| | | | | | | | | | | | | |
| --- | --- | --- | --- | --- | --- | --- | --- | --- | --- | --- | --- | --- |
| Personal Contract Purchase (PCP) | £191.02 | £1,030.00 | £0 | £10,304.00 | £9,274.00 | £3,519.47 | £13,718.43 | 13.4% (fixed) | 48 Months | 8000 | £0.12 | 13.4% |
FINANCIAL DISCLOSURE
Charters of Aldershot Limited is an appointed representative of ITC Compliance Limited which is authorised and regulated by the Financial Conduct Authority (their registration number is 313486). Permitted activities include advising on and arranging general insurance contracts and acting as a credit broker not a lender.
We can introduce you to a limited number of finance providers. We do not charge fees for our Consumer Credit services. We may receive a payment(s) or other benefits from finance providers should you decide to enter into an agreement with them, typically either a fixed fee or a fixed percentage of the amount you borrow. The payment we receive may vary between finance providers and product types. The payment received does not impact the finance rate offered.
All finance applications are subject to status, terms and conditions apply, UK residents only, 18's or over, Guarantees may be required.
Personal Contract Purchase: *At the end of the agreement there are 3 options: (i) Renew: Part exchange the vehicle. (ii) Retain: Pay the Optional Final Payment to own the vehicle or (iii) Return the vehicle. Further charges may be made subject to the condition or mileage of the vehicle.